> Home > Where to stay > Residences
Relais Villa San Nazario e B&B Il Poderuccio
Asciano
RESIDENCES 4 STARS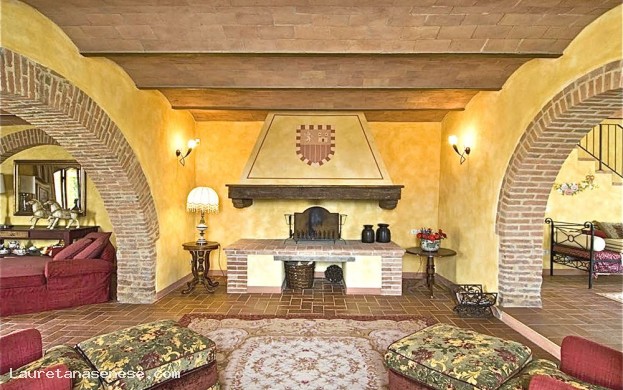 DO YOU WANT MORE INFORMATION?
Call our Call Center at



We will be happy to help you better organize your stay!
SERVICES
ACCETTAZIONE ANIMALI DOMESTICI
PISCINA SCOPERTA
TRASPORTO CLIENTI ALLA STAZIONE
VISITE GUIDATE
ACCESSO A INTERNET
ARIA CONDIZIONATA
RISCALDAMENTO INVERNALE
ASCIUGA CAPELLI
SALA RITROVO E/O TV
PARCO O GIARDINO
SAUNA
PALESTRA FITNESS
PARCHEGGIO RISERVATO
COMITIVE E GRUPPI
STRUCTURE DESCRIPTION

The farm is surrounded by nature generous with olive trees and vegetation, is an enchanted place among the hills of the Crete Senesi. An ancient place that gives a healthy alternative to the way of life fast-paced contemporary. Privacy, relaxation and tranquility are guaranteed. In the garden, among the olive trees, lies The rooftop swimming pool overlooking the rolling hills, from where you can see Siena and Montalcino. It is just 2 km from the 'Abbey of Monte Oliveto Maggiore. The owners are happy to help their customers in the selection of sightseeing tours and excursions throughout the territory. Possibility to arrange dinners or barbecues on request. After careful restoration, the farm is divided between the B & B IL PODERUCCIO which has 3 large bedrooms with private bathrooms and tastefully furnished Toscano, and RELAY VILLA SAN NAZARIO that has six apartments elegantly furnished and equipped with kitchen, private bathroom and all the comforts, with the possibility to accommodate up to four people. The breakfast is always included in our offerings, and is personally run by the owners and enriched by the genuine products The territory offers seasonally and is served on the panoramic terrace or in the convivial table inside dell'aerea common.
ARCHITECTURE, ART

NEARBY
DINING & ENTERTAINMENT

NEARBY