> Home > Where to stay > Agritourism
LE CRETE
Asciano
AGRITOURISM 1 EAR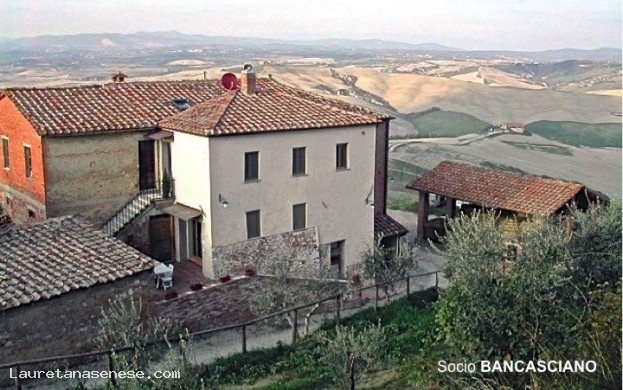 * Required field
DO YOU WANT MORE INFORMATION?
Call our Call Center at



We will be happy to help you better organize your stay!
SERVICES
ACCETTAZIONE ANIMALI DOMESTICI
TREKKING
LAVATURA E STIRATURA BIANCHERIA
ARIA CONDIZIONATA
DISPONIBILITĄ BICI E BYKE
TV SATELLITARE
RISCALDAMENTO INVERNALE
STRUCTURE DESCRIPTION

In the heart of Crete Senesi, there is the farm which belongs to one of the most famous jockeys of the history of the Sienese "Palio": Silvano Vigni, known as "Bastiano". He's a man who has made his love for the country and for horses, his life's reason. It is exactly the love for his rough and waving Crete which has convinced "Bastiano" to offer to his guests a part of his farmhouse. The lodgings, 4 apartments furnished in Tuscan style and provided with all kind of comforts, have been obtained from an ancient farmhouse which belonged to the Vescona's castle, which, in the eleventh century, was one of the counts Guinigi della Scialenga and Berardenga's signories. The landscape which occurs to our guests is lunar, a stretch of clayey hills almost completely lacking in high-trunk vegetation, cut here and there by deep calanques. Bastiano offers you a holiday not in a hotel disguised as a farmhouse but in a real farm where, within a ride and a good book, you will be involved into the rhythms of the land. This is a real opportunity for you to soend a holiday without leaving at home your "four paws' friend" and for your children to know the farm animals and play with them. A starting point to visit Tuscany or simply to relax and enjoy the tales and the secrets of the magic world of the Palio, directly told by one of its jockey.
ARCHITECTURE, ART

NEARBY
DINING & ENTERTAINMENT

NEARBY