> Home > Where to stay > Hotels
LA PACE
Asciano
HOTELS 3 STARS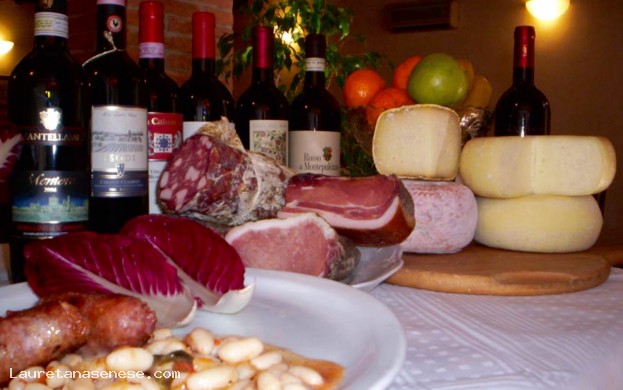 DO YOU WANT MORE INFORMATION?
Call our Call Center at



We will be happy to help you better organize your stay!
SERVICES
ACCETTAZIONE ANIMALI DOMESTICI
GIOCHI PER BAMBINI
PISCINA SCOPERTA
SOMMINISTRAZIONE ALIMENTI
RISTORANTE
COLAZIONE IN CAMERA
CASSAFORTE O CASSETTE DI SICUREZZA
ACCESSO A INTERNET
SERVIZIO FAX
ARIA CONDIZIONATA
DISPONIBILIT└ BICI E BYKE
RISCALDAMENTO INVERNALE
ASCIUGA CAPELLI
SALA RITROVO E/O TV
PARCO O GIARDINO
STRUCTURE DESCRIPTION

HOTEL PEACE
All rooms are provided with bath/shower, dry hair, TV Sat, fridge bar, strongbox, air condition, phone.
It is made up of 2 floors:
MANSARDA Modern place furnished according to typical "arte povera": 1 double room/parlour with sofa, 1 double room with sofa.
SECOND FLOOR 1 double room/parlour with sofa, double beds and double rooms, some have a lovely view upon garden.
Hotel la Pace has internet wi fi

DIPENDEDNZA THE BERSAGLIERE dependence
New Hotel built in 1988 from the demolition of an ancient building and operating from October 1989.
The Hotel preserves a modern style but furnished with classical character. The common services are: lift, strongbox, breakfast room, TV room/ Bar, garage for bikes and motorbikes.
The Hotel is made up of 4 double rooms, 6 double beds, 6 single bedrooms. All rooms are provided with bath/shower, dry hair, TV colour, minibar, phone and heating.

RESTAURANT
The Hotel la Pace has a restaurant open to all with indoor and tables in the garden. The Tuscan cuisine is traditional, the environment also has a breakfast room and bar for hotel guests.
ARCHITECTURE, ART

NEARBY
DINING & ENTERTAINMENT

NEARBY