> Home > Where to stay > Agritourism
Agriturismo LA VALIANA
Montepulciano
AGRITOURISM 1 EAR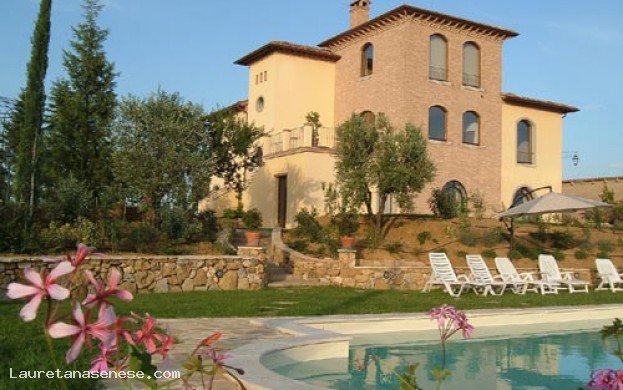 * Required field
DO YOU WANT MORE INFORMATION?
Call our Call Center at



We will be happy to help you better organize your stay!
SERVICES
PISCINA SCOPERTA
STRUCTURE DESCRIPTION

A poche centinaia di metri dalla strada che collega Montepulciano a Cortona, si imbocca una via sterrata, che corre lungo il crinale di una collina ricoperta di vigneti.
Ed ecco, dietro la curva si apre un panorama segreto: la Toscana a sinistra, con le sue morbide colline ondulate, e l'Umbria a destra, con un'improvvisa pennellata azzurra... è il Lago Trasimeno.
Proprio in questo punto si alza un'elegante dimora, con la facciata dai colori giallo e terracotta, illuminata dalla luce mattutina del sole che sorge sul lago; e con la sua "Torretta" in mattoni, calda e maestosa nella soffice luce del tramonto.
Si scorge il viale d'accesso, punteggiato di cipressi, gli scaloni di ghiaia, fiancheggiati da cespugli di rose e di bosso selvatico, il travertino bianco del portale d'ingresso; e tutto intorno alla villa, finestroni ricamati nel ferro battuto si spalancano sul vigneto e sul giardino, intercalati da vasi di rose, di limoni, di bouganvilles; e gli alberi di susine, di mele, cachi e fichi…ed i profumi che entrano nella casa.
Nella "Torretta", sotto l'intricato gioco delle travi, i balconi e le terrazze si propendono su un vasto panorama di dolci colline, disseminato di cipressi e casali lontani, di vigne ordinate e piccole macchie d'olivi.
E ad incorniciare la vallata, i tetti rossi di Cortona, la mole di Montepulciano, ed il profilo lontano del Monte Amiata, che si staglia netto contro il cielo azzurro.
ARCHITECTURE, ART

NEARBY
DINING & ENTERTAINMENT

NEARBY