> Home > Where to stay > Agritourism
Agriturismo BORGO DEL MOLINELLO
Montepulciano
AGRITOURISM 2 EARS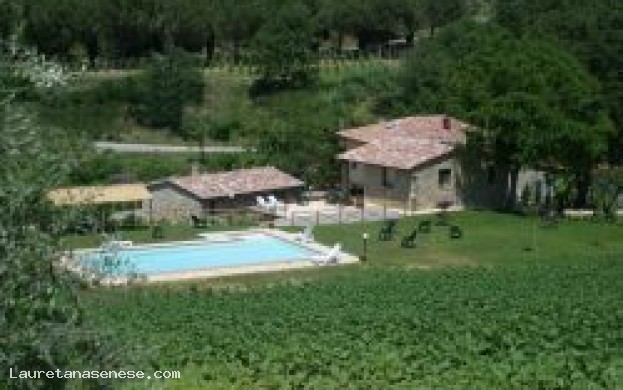 * Required field
DO YOU WANT MORE INFORMATION?
Call our Call Center at



We will be happy to help you better organize your stay!
SERVICES
PISCINA SCOPERTA
TREKKING
STRUCTURE DESCRIPTION

Nel Cuore della Toscana, immerso in un contesto naturale fra girasoli ed alberi da frutto dove le splendide vallate di Siena completano la bellezza del paesaggio troviamo un luogo tranquillo e naturale.ubito alle porte del paese, dove Vi sono le Famose Terme di Montepulciano, nasce "Borgo del Molinello",Agriturismo recentemente ristrutturato ricavato da un Antica Macina.

La completa ristrutturazione è stata effettuata rispettando le usanze e le origini dei vecchi contadini Toscani. In questo luogo potete assicurarvi una vacanza di Estremo relax e divertimento:
L'Agriturismo offre anche un servizio di mountain-bike che Vi permette di fare splendide escursioni nella circostante campagna toscana.

E' anche il luogo ideale per gite artistico-culturali visto la vicinanza con Montepulciano 15 km Pienza, 3 km Chianciano, 22 km Bagno Vignoni, 35 km Montalcino e Siena; in un ora di macchina si può visitare le maggiori città Perugia - Firenze - Roma, ma si possono passare anche momenti di completo relax in giardino ai bordi della piscina che misura 6 X 12 è dispone di illuminazione interna ed esterna sdraie e lettini, con gazebo per bellissime cene all'aperto.

Sono presenti il servizio di lavanderia,una stanza con un grande tavolo per i banchetti di gruppo con cucina e bagno privato e il barbecue esterno; é inoltre possibile acquistare i prodotti Locali e di nostra produzione.
ARCHITECTURE, ART

NEARBY
DINING & ENTERTAINMENT

NEARBY